Hwashin Bolt Industry Becomes Busan's First 'Excellent Longevity Company'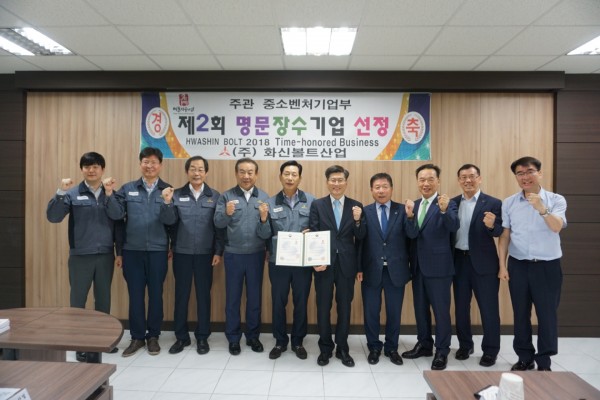 video link : : http://hsb2522.cafe24.com/video/hwashin.mp4
Busan Regional Small Business Venture Business Agency announced on 26th that it awarded Hwashin Bolt Industries Co., Ltd., which produces power plant, offshore plant and special bolts for submarines, as the first longevity enterprise in Busan area.
Hwashin Bolt Industry has been special bolt since its foundation in 1963, and it has developed like Korea's economy and has become a global company with a market share of 70% in this field.
The company has an average employment rate of 125% over the past five years and is a role model for job creation in the private sector, contributing to the revitalization of the local economy with an annual export of more than $ 8 million.
The prestigious longevity corporation confirmation system was introduced in 2016 to propose a desirable role model for SME growth and to spread the respectable culture of exemplary companies that fulfill their economic and social responsibilities.
It can be designated as 'prestigious' only if it maintains business for more than 45 years in the industry concerned, and is highly evaluated in terms of social contribution such as legal contribution and social contribution as well as economic contribution such as stable job creation and sincere tax payment.
For the first time last year, six companies were selected, including COMMAX Co., Donga Pencil Co., Ltd., Maeil Food Co., Ltd., Pien Hoon Year Co., Ltd., Kwang Shin Machinery Industry Co., Ltd., and Samwoo Metal Industry Co.,
This year, a total of four companies were selected nationwide, including Hwashin Bolt Industries.
These companies have applied for a total of 68 companies including 53 SMEs and 15 midsize companies. In addition, they have completed very strict and rigorous procedures such as requirements verification, written evaluation, field evaluation, reputation verification by government agencies and media, I passed.
When it is selected as a prestigious longevity corporation, it will be given benefits such as priority selection and awarding of various support programs (policy fund, export, personnel, R & D, etc.)
The ceremony was held on the 25th on the afternoon of the 25th in Busan Industrial Conference Room No. 64, Hwasin-china Busan, Saha-gu, Busan, Busan, Busan Regional Small Venture Business Administration Director, Chungsunwon Hwashin Bolt Industry Representative Director, Kyungsik Sawaku Power Development Council, Song Chuncheol Small and Medium Business Administration Busan Ulsan Chairman of the board of directors.
Cho Jong-rae, director of Busan Regional Small and Medium Business Venture Business, said, "I will make a good example for many entrepreneurs and small and medium-sized enterprises that are promoting sustainable growth while contributing to the local economy and social development by promoting a prestigious longevity corporation such as Hwashin Bolt Industry" said.
Related article :http://www.fnnews.com/news/201806260943213855