'Strongest bolt' that has been polished for 53 years ... now we are also delivering to GE, GE Siemens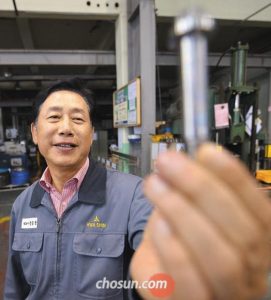 [Nomon Longevity Corporation] [3] 'Hwashin Bolt Industry' Jung, Soon Won
Production for offshore plant and power plant … Made of special steel Weight tens of kilograms
"Our sales grew 10 times more than we were in 1994, and now we are also delivering to global companies like GE."
Jung, Soon Won (63), who met at the headquarters of Hwashin Bolt in Janglim-dong, Saha-ku, Busan, said, "The IMF crisis and the shipbuilding industry were in difficult times, but they survived the difficult times. I think I can be glad. " Hwashin Bolt is a specialized industrial bolt maker for offshore plants and power generation facilities. Its sales and exports account for 35.1% and 23.1 billion won, respectively. Although the shipbuilding industry has been in a difficult situation for the past two to three years due to the recession, it has started to recover from this year.
◇ GE, GE Siemens, Germany
In 1965, when the founder, the late Chonggyo Chae, founded Hwashin Bolt  Industrial Company, the predecessor of the Hwashin Bolt  industry. It was only two years since I started selling bolts. Chung said, "My father had a shop selling bolts or bolts from the US military scrapes, but he thought he was too crude to build himself." He said, "I built a temporary building in Bumyeongdong house yard and picked five employees I started. "
Hwashin Bolt  Industry Status
Initially, the employees carried bicycles filled with bolts. The company has now grown to include global shipbuilding companies such as Daewoo Shipbuilding & Marine Engineering, Samsung Heavy Industries and Hyundai Heavy Industries, as well as GE Power, GE Siemens and Mitsubishi Hitachi Power Systems. Hwashin Bolt Industries jumped into the special industrial bolt market in the early 1980s with a deal with Hyundai Corporation (present Doosan Heavy Industries & Construction) in Changwon, Gyeongsangnam-do. Special industrial bolts are made of special steel such as nickel alloy steel because they have to withstand high temperature and high pressure and weighs several tens of kilograms. The price of each expensive product is tens of thousands of won. Steam turbines, gas turbines, and other offshore plants.
Jung said, "At first, we made only construction bolts, but when we look at the import bolts into the power plant, the price is 10 to 40 times that of our products." "We have expanded our business into power plants and offshore plants by developing one by one." said.
Since 2015, it has been supplying directly to GE Power, the largest power plant company in the world. Jung said, "Originally, we had a small delivery through an intermediary company, but we contacted GE's headquarters first to make a direct deal." After several months of US headquarters personnel verifying the production process, "He said.
Hwashin Bolt industry played a big role in localization of submarine. Since 2009, he has participated in the localization project of 1800t Korean submarine and has developed and produced more than 1400 bolts and nuts. He is also participating in the ongoing 3000t class submarine business. The quality has been enough to place 14 people, who are one-third of office and research staff, in quality control. "The fact that an offshore plant made with a tank of water can cause a big problem with a single bolt, always emphasizes perfection," said Jung. "In fact, a global power company last month stopped delivery immediately after a bolt malfunction in China, "He said.
◇ Expansion of factory and new business
Hwashin Bolt Industries is constructing a new factory in Myeongdong District, Gangseo-gu, Busan, which is about twice the size of the existing plant, with a capacity of 16,500㎡ (about 5,000 pyeong) in 2021. We are also spurring research and development (R & D) for new products. Jung said, "We are increasing the production of wind power generation bolts that are likely to grow on the global new and renewable energy boom, and are also preparing to enter the high-speed aviation bolt market." It will expand beyond the market for power generation equipment, which is the main product, to new fields.
"Even when other companies chose to change their names in English, we have been keeping the" Hornbolt "from the start, and I would like to imprint the image that" Bolt is the greatest incarnation "around the world."
Related article : http://biz.chosun.com/site/data/html_dir/2018/06/14/2018061403910.html?utm_source=naver&utm_medium=original&utm_campaign=biz#csidxa939d321a8f3b249202f9e4bc372e25